Mantidactylus grandidieri

Subgenus: Mantidactylus

family: Mantellidae
subfamily: Mantellinae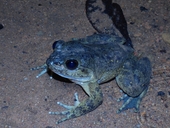 &copy 2012 Sebastian Wolf (1 of 11)


Conservation Status (definitions)
IUCN (Red List) Status
Least Concern (LC)
See IUCN account.
CITES
No CITES Listing

Other International Status
None
National Status
None
Regional Status
None
Can you confirm these amateur observations of Mantidactylus grandidieri?
Description
Adults 75-108 mm. Similar to M. guttulatus but usually with a less granular skin and smaller discs on fingers and toes. Some specimens can appear very granular.

Distribution and Habitat


Country distribution from AmphibiaWeb's database: Madagascar

Ambalamarina, Ambalamarovandana, Ambana, Ambatolampy, Ambatovory, Ambohitantely, Ambohitsara, Ampasy, Analamazoatra, Andasibe, Andohariana, Andringitra (Iantara river, Sahavatoy river), Antananda, Betampona, Chaines Anosyennes, Isaka-Ivondro, Ivohibe, Manantantely, Mangevo (Ranomafana), Manjakatompo, Mantasoa, Midongy, Moramanga, Moramanga-Niagarakely, Pic St. Louis, near Ifanadiana, Sandrangato, Torotorofotsy 1, Vevembe, Vohidrazana, Vondrozo. Assignment of many localities is tentative. It occurs between sea level to 1,500m asl around streams of pristine rainforest (Andreone and Raxworthy 2008).

Life History, Abundance, Activity, and Special Behaviors
Habits: As in M. guttulatus. Tadpoles with unusual, papillae-rich mouthparts have been found in a stream in Ranomafana National Park, but seem to be very rare; possibly their development takes place partly at hidden sites.

Calls: Unknown.

Breeding is unknown, but larval development probably takes place in streams (Andreone and Raxworthy 2008).

Trends and Threats
It occurs in many protected areas (Andreone and Raxworthy 2008).

Possible reasons for amphibian decline
General habitat alteration and loss
Habitat modification from deforestation, or logging related activities
Intensified agriculture or grazing
Habitat fragmentation
Intentional mortality (over-harvesting, pet trade or collecting)

Comments
Taken with permission from Glaw and Vences (2007).
References


Andreone, F. and Raxworthy, C. (2008). Mantidactylus grandidieri. In: IUCN 2008. 2008 IUCN Red List of Threatened Species. www.iucnredlist.org. Downloaded on 29 April 2009.

Glaw, F., and Vences, M. (2007). Field Guide to the Amphibians and Reptiles of Madagascar. Third Edition. Vences and Glaw Verlag, Köln.
---

Written by Miguel Vences and Frank Glaw (m.vences AT tu-bs.de), Assistant Professor and Curator of Vertebrates at the Institute for Biodiversity and Ecosystem Dynamics in the Zoological Museum at the University of Amsterdam.
First submitted 2000-12-13
Edited by Henry Zhu (2009-05-06)
---

Feedback or comments about this page.

Citation: AmphibiaWeb: Information on amphibian biology and conservation. [web application]. 2015. Berkeley, California: AmphibiaWeb. Available: http://amphibiaweb.org/. (Accessed: Jul 1, 2015).

AmphibiaWeb's policy on data use.