Boophis reticulatus

Subgenus: Boophis

family: Mantellidae
subfamily: Boophinae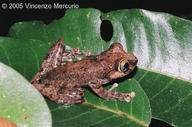 &copy 2005 Vincenzo Mercurio (1 of 5)
| | |
| --- | --- |
| | hear call (188.9K MP3 file) |
Description
M 29-35 mm, F 41-44 mm. Tibiotarsal articulation reaches between nostril and tip of snout. Hand with some webbing, foot webbing 1(0), 2i(1), 2e(0), 3i(1), 3e(1), 4i/e(1), 5(0). Dorsal skin with a network of very distinct dermal reticulations. Distinct spines on elbow and heel, and a series of large tubercles on the shanks. Colour typically rather uniform light brown. Usually two light patches under the eye. The iris is silvery and orange-brown. Males with indistinct nuptial pads and a weakly distensible single subgular vocal sac.

Similar species: Boophis sp. b has smoother dorsal skin. All subadults of the B. goudotii-group.

Distribution and Habitat


Country distribution from AmphibiaWeb's database: Madagascar

Ambohitantely, An'Ala, Andasibe, Itremo, Ranomafana National Park (Ambatovory, Ambatolahy, Maharira forest, Ranomena). It is observed between 800-1650 asl in primary rainforest along streams (Nussbaum and Raxworthy 2008).

Life History, Abundance, Activity, and Special Behaviors
Habits: Males call at night from perches 1-2 m high in the vegetation along streams in rainforest. Can be very common, for example in the Ranomafana area.

Calls: Typically one or several relatively long unharmonious notes, sometimes series of up to 17 short notes.

Breeding takes place in streams (Nussbaum and Raxworthy 2008).

Trends and Threats
Least Concern: wide distribution, presumed large population, and slow decline. It occurs in many protected areas (Nussbaum and Raxworthy 2008).

Possible reasons for amphibian decline
General habitat alteration and loss
Habitat modification from deforestation, or logging related activities
Intensified agriculture or grazing
Urbanization
Habitat fragmentation

Comments
Taken with permission from Glaw and Vences (2007).
References

Glaw, F. and Vences, M. (1994). Amphibians and Reptiles of Madagascar. M. Vences and F. Glaw Verlags GbR., Köln.
Glaw, F., and Vences, M. (2007). Field Guide to the Amphibians and Reptiles of Madagascar. Third Edition. Vences and Glaw Verlag, Köln.
Nussbaum, R. and Raxworthy, C. (2008). Boophis reticulatus. In: IUCN 2008. 2008 IUCN Red List of Threatened Species. www.iucnredlist.org. Downloaded on 08 April 2009.
---

Written by Miguel Vences and Frank Glaw (m.vences AT tu-bs.de), Assistant Professor and Curator of Vertebrates at the Institute for Biodiversity and Ecosystem Dynamics in the Zoological Museum at the University of Amsterdam
First submitted 2000-10-30
Edited by Henry Zhu (2009-05-05)
---

Feedback or comments about this page.

Citation: AmphibiaWeb: Information on amphibian biology and conservation. [web application]. 2016. Berkeley, California: AmphibiaWeb. Available: http://amphibiaweb.org/. (Accessed: Oct 1, 2016).

AmphibiaWeb's policy on data use.