Boophis periegetes

Subgenus: Boophis

family: Mantellidae
subfamily: Boophinae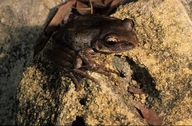 &copy 2006 Franco Andreone (1 of 3)
| | |
| --- | --- |
| | hear call (161.8K MP3 file) |
Description
M 69-75 mm, F 67 mm. Hand and foot with webbing. No spines on elbow and heel. Dorsal skin smooth in females but in males the dorsal surface is covered by whitish tubercles with keratinized spines, and by glands in many body regions. Males also have distinct keratinized nuptial pads. Specimens from Andohahela have a brown dorsal colour with orange and olive-greenish markings.

Distribution and Habitat


Country distribution from AmphibiaWeb's database: Madagascar

Andohahela, Ranomafana (Ambolovaventy, Andranaroa river, Ivalohoaka, Maharira forest) (Glaw et al. 2007). It occurs between 800-1,100 m asl (Cadle et al. 2008).

Life History, Abundance, Activity, and Special Behaviors
Habits: The type specimens from Ranomafana were collected along a small, slow-moving stream in rainforest, one of the males being found at a perch height of 4-5 m. At Andohahela males called along a tiny slow-moving stream in rainforest from the vegetation ca. 3 m high.

Calls: At Andohahela, the recorded calls were melodious whistles, totally different from all other calls in the B. goudoti group, except perhaps B. sp. aff. brachychir.

Trends and Threats
Data Deficient: uncertainties related to extent of occurrence, status and ecological requirements. It occurs in Parc National de Ranomafana, and possibly also in Parc National d'Andohahela and Parc National d'Andringitra (Cadle et al. 2008).

Possible reasons for amphibian decline
General habitat alteration and loss
Habitat modification from deforestation, or logging related activities
Intensified agriculture or grazing
Urbanization
Habitat fragmentation

Comments
Taken with permission from Glaw and Vences (2007).
References

Cadle, J., Nussbaum, R., and Andreone, F. (2008). Boophis periegetes. In: IUCN 2008. 2008 IUCN Red List of Threatened Species. www.iucnredlist.org. Downloaded on 15 March 2009.
Glaw, F., and Vences, M. (2007). Field Guide to the Amphibians and Reptiles of Madagascar. Third Edition. Vences and Glaw Verlag, Köln.
---

Written by Miguel Vences and Frank Glaw (m.vences AT tu-bs.de), Assistant Professor and Curator of Vertebrates at the Institute for Biodiversity and Ecosystem Dynamics in the Zoological Museum at the University of Amsterdam
First submitted 2009-03-11
Edited by Henry Zhu (2009-04-08)
---

Feedback or comments about this page.

Citation: AmphibiaWeb: Information on amphibian biology and conservation. [web application]. 2016. Berkeley, California: AmphibiaWeb. Available: http://amphibiaweb.org/. (Accessed: Oct 1, 2016).

AmphibiaWeb's policy on data use.