Boophis idae

Subgenus: Sahona

family: Mantellidae
subfamily: Boophinae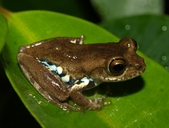 &copy 2011 Devin Edmonds (1 of 3)
| | |
| --- | --- |
| | hear call (164.7K MP3 file) |
Description
A medium-sized, grey-brown treefrog; males 29-36 mm, female length not recorded. Tibiotarsal articulation reaches the eye. Hands have a trace of webbing,and foot webbing shows pattern, 1(0-0.5), 2i(1), 2e(0), 3i(1), 3e(0), 4i/e(1.5-2), 5(0-0.5). Males have unpigmented nuptial pads and a weakly distensible single subgular vocal sac. Dorsal skin is smooth and can be slightly granular in breeding males. Back is grey-brown, yellowish brown or dark brown, often with minute black spots surrounded by green. Flanks have a distinct pattern of black encircling large whitish, yellowish or turquoise spots. Posterior part of the thighs is brownish. Limbs possess irregular brown crossbands. Disks of fingers and toes are orange. Throat appears yellow, belly white, and iris orange-brown. Skin on the back is finely granular. Nostrils are equidistant between the tip of snout and eye. Tympanum indistinct, tympanum/eye ratio is 1/3-2/5.

Similar species: The distinct colour pattern on the flanks allows a distinction from B. doulioti, B. tephraeomystax and B. guibei.

Distribution and Habitat


Country distribution from AmphibiaWeb's database: Madagascar

Andasibe, Andrangoloaka, Fianarantsoa, Ivohibe, Mandraka. Observed at elevations from 900 to 1100 m in disturbed or open areas of rainforest and the forest edge. It also inhabits agricultural areas and large swamps (Nussbaum and Vallan 2008).

Life History, Abundance, Activity, and Special Behaviors
Habits: Males call in the evening in October and November, from vegetation, often 10-30 cm above stagnant sunlit pools. One specimen was found during the day in a leaf axil of a banana plant. Occurs sympatrically with B. hillenii and B. granulosus.

Call: An unharmonious pulsed note, often followed by a series of several short clicks

Eggs and tadpoles (from Mandraka): Eggs unknown. Tadpoles live in sunlit pools. They are greyish, with a white transversal bar on the middle of the back and a white spot on the snout tip, more distinct in early developmental stages. Belly silvery. Total length in stage 25: 8-15 mm; in stages 31-41: 25-38 mm. The mouth is small and directed anteroventrally. Eyes are directed laterally. At midlength of the tail, the caudal musculature represents about 1/5 of the total tail height. Tooth formula is 1/3+3//1+1/2 to 1/5+5//1+1/2. Metamorphosing juveniles measure 15-16 mm from snout to vent. Their colour is greenish or brownish, with minute green spots edged black on the back. Turquoise longitudinal bands on the upper arm, thigh, heel and tarsus. Hands and feet yellow. Tibiotarsal articulation reaches the centre of the eye. Males call at night from perches 10-30 cm above ponds in or near

Trends and Threats
Its forest habitat is receding due to subsistence agriculture, timber extraction, charcoal manufacture, and invasive spread of eucalyptus, livestock grazing and expanding human settlements (Nussbaum and Vallan 2008).

Possible reasons for amphibian decline
General habitat alteration and loss
Habitat modification from deforestation, or logging related activities
Intensified agriculture or grazing

Comments
Taken with permission from Glaw and Vences (2007).

Blommers-Schlösser (1979a) described a species (B. hillenii) that was supposed to occur syntopically with B. idae and differed almost exclusively by call, but this species has since been synonymized with B. idae (Vallan et al. 2010).

References


Glaw, F. and Vences, M. (1994). Amphibians and Reptiles of Madagascar. M. Vences and F. Glaw Verlags GbR., Köln.

Glaw, F., and Vences, M. (2007). Field Guide to the Amphibians and Reptiles of Madagascar. Third Edition. Vences and Glaw Verlag, Köln.

Nussbaum, R. and Vallan, D. (2008). Boophis idae. In: IUCN 2008. 2008 IUCN Red List of Threatened Species. www.iucnredlist.org. Downloaded on 31 March 2009.

Vallan, D., Vences, M., and Glaw, F. (2010). ''Forceps delivery of a new treefrog species of the genus Boophis from eastern Madagascar (Amphibia: Mantellidae).'' Amphibia-Reptilia, 31, 1-8.
---

Written by Miguel Vences and Frank Glaw (m.vences AT tu-bs.de), Assistant Professor and Curator of Vertebrates at the Institute for Biodiversity and Ecosystem Dynamics in the Zoological Museum at the University of Amsterdam.
First submitted 2000-10-30
Edited by Kellie Whittaker (2010-01-29)
---

Feedback or comments about this page.

Citation: AmphibiaWeb: Information on amphibian biology and conservation. [web application]. 2016. Berkeley, California: AmphibiaWeb. Available: http://amphibiaweb.org/. (Accessed: Sep 27, 2016).

AmphibiaWeb's policy on data use.