Boophis albipunctatus

Subgenus: Boophis

family: Mantellidae
subfamily: Boophinae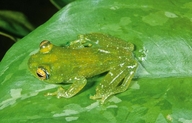 &copy 2008 Miguel Vences and Frank Glaw (1 of 1)
| | |
| --- | --- |
| | hear call (175.5K MP3 file) |
Description
A medium-sized green treefrog, males about 33 mm SVL, females unknown. Back green, with many dispersed, small whitish spots. Sometimes some black pigmentations on the back. Venter whitish, yellow in the middle, bluish on the throat. White lateral fringes on lower arm and tarsus. Iris yellowish with symmetrical reddish markings. Skin on the back smooth. Nostrils equidistant between eye and tip of snout. Tympanum indistinct. Tibiotarsal articulation reaches the nostril. Webbing of the hand: a trace of webbing between 1 and 2i, 2e(1) 3i(2.5), 3e(1), 4(1). Webbing of the foot: 1(0.5), 2i/e(0.5), 3i(1), 3e(0.5), 4i/e(1), 5(0). Males with nuptial pads and probably a single, subgular vocal sac.

Distribution and Habitat


Country distribution from AmphibiaWeb's database: Madagascar

Andasibe, Manantantely, Manombo, Nahampoana. It occurs between 400-900m asl in rainforest, generally along small streams and brooks (Nussbaum et al. 2008).

Life History, Abundance, Activity, and Special Behaviors
Males were calling in January at night in choruses from trees more than 3 m high along brooks in forest.

Call (from the terra typica, 25 °C): Composed of a series of short clicks (each click can be regarded as a note), repeated after intervals of 369-532 ms (mean 416 ms) and lasting 19-43 ms (mean 34 ms). Note repetition rate is about 2.5/s, frequency ranges from 2 to 3 kHz. The end of the call is characterized by some rapid note-series (of about 5 notes/series).

Calls from Andasibe are similar: note repetition rate is 2.1/s, the rapid note-series at the end of the call can consist of upto 12 notes. Frequency is between 2.5 and 3 kHz.

Eggs and tadpoles: Unknown.

Breeding takes place in streams (Nussbaum et al. 2008).

Trends and Threats
Least Concern: wide distribution and large population. It occurs in the Parc National d'Andohahela and the Réserve Spéciale d'Analamazaotra (Nussbaum et al. 2008).

Possible reasons for amphibian decline
General habitat alteration and loss
Habitat modification from deforestation, or logging related activities
Intensified agriculture or grazing
Urbanization
Habitat fragmentation

Comments
Taken with permission from Glaw and Vences (2007).
References

Glaw, F. and Vences, M. (1994). Amphibians and Reptiles of Madagascar. M. Vences and F. Glaw Verlags GbR., Köln.
Glaw, F., and Vences, M. (2007). Field Guide to the Amphibians and Reptiles of Madagascar. Third Edition. Vences and Glaw Verlag, Köln.
Nussbaum, R., Glaw, F., and Andreone, F. (2008). Boophis albipunctatus. In: IUCN 2008. 2008 IUCN Red List of Threatened Species. www.iucnredlist.org. Downloaded on 14 April 2009.
---

Written by Miguel Vences and Frank Glaw (m.vences AT tu-bs.de), Assistant Professor and Curator of Vertebrates at the Institute for Biodiversity and Ecosystem Dynamics in the Zoological Museum at the University of Amsterdam
First submitted 2000-10-24
Edited by Henry Zhu (2010-07-19)
---

Feedback or comments about this page.

Citation: AmphibiaWeb: Information on amphibian biology and conservation. [web application]. 2016. Berkeley, California: AmphibiaWeb. Available: http://amphibiaweb.org/. (Accessed: Oct 1, 2016).

AmphibiaWeb's policy on data use.