Smilisca fodiens
Northern Casquehead Frog, Northern Burrowing Treefrog, Lowland Burrowing Treefrog
family: Hylidae
subfamily: Hylinae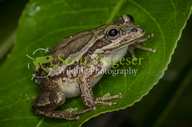 &copy 2013 Scott Trageser (1 of 21)


Conservation Status (definitions)
IUCN (Red List) Status
Least Concern (LC)
See IUCN account.
NatureServe Status
Use NatureServe Explorer to see status.
CITES
No CITES Listing

Other International Status
None
National Status
None
Regional Status
CALIFORNIA
Can you confirm these amateur observations of Smilisca fodiens?
Description
Smilisca fodiens is a frog that can reach sizes of 54 - 63 mm. Females do not differ significantly from males in proportions. The relatively small head is slightly wider than long. The skin of the head is partly co-ossified with underlying cranial bones. The snout when dorsally viewed is acutely rounded and bluntly rounded from the lateral view. The canthal ridges are distinct, where they meet forms a bony internasal ridge. The ridge extends anteriorly to the tip of the snout. The pupil is horizontal and the iris is dull bronze. The hind limbs are short and robust. The fingers are long and have small discs. The fingers are slender and have no webbing. The toes have small amount of webbing. The terminal discs are smaller than the finger discs. The inner metatarsal tubercle is large, elliptical, and spade-like. The skin is granular on the belly, dorsum, and parts of the thighs but otherwise smooth. The vocal sac is subgular and bilobate, and the halves are narrowly separated. The tadpoles have short tails, are pelagic type, have a anteroventral mouth with a large beak, have large papillae both laterally and ventrally, and have two-thirds tooth rows (Trueb 1969).

Smilisca fodiens's closest relative is Smilisca dentata, from which it can be differentiated by S. fodiens having a bony ridge extending from a point between the nostrils to the tip of the acutely rounded snout, digits expanded into small discs, and vocal sacs connected medially in breeding males (Trueb 1969).

In life, the dorsum coloration ranges from tan, pale olive-brown, grey-brown, and pink-brown. There are longitudinal stripes and small spots with dark brown or red-brown coloration and dark brown or black outline. In preservative, the dorsal ground color varies from pale grey-tan to creamy/pink-tan (Trueb 1969).

There is variation in the pattern of stripe/spot arrangement, as well as slight coloration differences (Trueb 1969).

Distribution and Habitat


Country distribution from AmphibiaWeb's database: Mexico, United States

U.S. state distribution from AmphibiaWeb's database: Arizona

Smilisca fodiens occurs from south-central Arizona in the USA, southward along the Pacific coast through to western Sonora, Sinaloa, Nayarit and Colima in Mexico. Inland it is found from central Jalisco to northern Michoacán and adjacent Guanajuato, Mexico. It occurs from near sea level to about 1,490m (Santos-Barrera et al. 2010).

In Arizona, S. fodiens lives in burrows in open mesquite grassland. In Mexico it is also found in tropical scrub forests (Santos-Barrera et al. 2010).

Fieldwork in several localities along S. fodiens's range has recorded well-preserved populations, especially those occurring in Biosphere Reserves. Based on the map in Trueb (1969), there appear to be many populations, particularly in the southern part of its range (Santos-Barrera et al. 2010).

Life History, Abundance, Activity, and Special Behaviors
Smilisca fodiens is a terrestrial burrowing species, adapted to living in burrows where humidity is high (Ford and Finch 1994), and lives in xeric environments. It is common in temporary pools formed by rains where it also breeds (Santos-Barrera et al. 2010). The frogs time the onset of breeding with the summer rains from July through August (Ford and Finch 1994). These frogs aestivate by forming cocoons underground (Lannoo 2005).

The call of S. fodiens sounds like a duck quack, as it consists of a series of low-pitched notes (Trueb 1969).

Trends and Threats
While the population trend is stable, S. fodiens is threatened by agricultural development in some parts of its range, especially within its wide Mexican range. The species can, however, be found in several protected areas (Santos-Barrera et al. 2010).

Possible reasons for amphibian decline
General habitat alteration and loss
Habitat modification from deforestation, or logging related activities
Intensified agriculture or grazing
Habitat fragmentation

Comments
Modifications such as short, robust limbs, squat body, and heavily ossified head allow the frog to live a fossorial existence. The internasal and labial flanges of the frog are adaptations for phragmotic behavior (Trube 1969). Phragmosis involves the frogs using the bony skull to plug the burrow against predators, wind, and loss of moisture (Ford and Finch 1994).
Smilisca fodiens was previously within the genus Pternohyla, which was recently synonymized with Smilisca (Faivovich et al. 2005).
The species epithet, fodiens, comes from the Latin word fodio, meaning to dig; this refers to the digging adaptations of the spade-like inner metatarsal tubercles (Trueb 1969).
References


Faivovich, J., Haddad, C. F. B., Garcia, P. C. A., Frost, D. R., Campbell, J. A., and Wheeler, W. C. (2005). ''Systematic review of the frog family Hylidae, with special reference to Hylinae: phylogenetic analysis and taxonomic revision.'' Bulletin of the American Museum of Natural History, (294), 1-240.

Ford, Paulette L., Finch, D.M. 1994. ''Habitat and Breeding Ecology of Amphibians of the Tropical Deciduous Forests of Jalisco, Mexico.'' United States Department of Agriculture General Technical Report, Downloaded on 17 March 2013 from http://babel.hathitrust.org/cgi/pt?id=umn.31951d03001066w;view=1up;seq=241

Santos-Barrera, G., Hammerson, G., Ponce-Campos, P. 2010. Smilisca fodiens. In: IUCN 2012. IUCN Red List of Threatened Species. Version 2012.2. . Downloaded on 19 March 2013

Trueb, L. (1969). ''Pternohyla.'' Catalog of American Amphibians and Reptiles, 77, 1-4.
---

Written by Kaetlyn Wynn (k.wynn AT utexas.edu), University of Texas at Austin
First submitted 2013-08-07
Edited by Ann T. Chang (2013-08-07)
---

Feedback or comments about this page.

Citation: AmphibiaWeb: Information on amphibian biology and conservation. [web application]. 2015. Berkeley, California: AmphibiaWeb. Available: http://amphibiaweb.org/. (Accessed: May 29, 2015).

AmphibiaWeb's policy on data use.