Rana yavapaiensis
Lowland Leopard Frog
Subgenus: Pantherana

family: Ranidae
Taxonomic Notes: This species is placed in Lithobates by some authors, following Frost et al., 2006. This has been a controversial decision, because such well-known species as Rana catesbeiana, with an enormous literature, are made more obscure to many. What is not controversial is that Lithobates is the sister taxon of Rana, so the argument is simply one of Linnean ranks. AmphibiaWeb recommends treating Lithobates as a subgenus of Rana, with species names to be written as Rana (Lithobates) catesbeiana, as an example. This option preserves the maximal amount of phylogenetic information and preserves a long-standing taxonomy.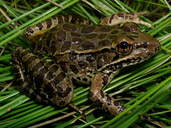 &copy 2004 William Flaxington (1 of 6)
| | |
| --- | --- |
| | hear call (112.7K RM file) |
| | hear call (5362.6K WAV file) |
| | hear call (321.4K MP3 file) |
Description
Female snout-vent lengths are between 46 and 72 mm and male snout-vent lengths are between 53 and 87 mm. Dorsolateral folds are prominent and lightly colored; they are interrupted posteriorly and deflected medially in the sacral region. There is a supralabial stripe, which is incomplete, and diffuses anterior to the eye. The venter is cream colored, with the yellow coloration of the the groin often extending onto the posterior venter and onto the underside of the legs.

Distribution and Habitat


Country distribution from AmphibiaWeb's database: Mexico, United States

U.S. state distribution from AmphibiaWeb's database: Arizona, California, New Mexico, Nevada, Utah

Rana yavapaiensis is found in western New Mexico, Arizona and presumably in adjacent parts of Sonora, Mexico. Specimens have also been collected, but not recently, in Imperial Co., California, Overton, Clark Co., Nevada, and near St. George, Washington Co., Utah. The distribution is otherwise fairly continuous, except in Littlefield, Mohave Co., in extreme northwestern Arizona, and in extreme southwestern Arizona.

Populations usually are found in ponds, and in stream and river pools, in scrub desert localities throughout south central and southeastern Arizona. They are also found in adjacent tributaries of rivers flowing into Sonora, Mexico and New Mexico. R. yavapaiensis are most abundant in deep water, where they are protected from predation. In the scrub desert habitats, they are found at elevations below 1000 m. However, some populations in Central Arizona (Yavapai Co.) reach elevations of up to 1700 m.

Life History, Abundance, Activity, and Special Behaviors
Rana yavapaiensis has an advertisement call consisting of a series of short notes, and the call may last between 3 and 8 minutes. The first note is usually longer than the six to fifteen following notes. The internode time generally decreases as the call sequence progresses.

Comments


See another account at californiaherps.com.

References


Platz, J. E. (1963). ''Rana yavapaiensis (Platz and Frost) Lowland Leopard Frog.'' Catalogue of American Amphibians and Reptiles. American Society of Ichthyologists and Herpetologists, 418.1-418.2.
---

Written by Franziska Sandmeier (franturtle AT yahoo.com), UC Berkeley
First submitted 2001-02-23
Edited by Kellie Whittaker (2008-01-27)
---

Feedback or comments about this page.

Citation: AmphibiaWeb: Information on amphibian biology and conservation. [web application]. 2016. Berkeley, California: AmphibiaWeb. Available: http://amphibiaweb.org/. (Accessed: Jun 26, 2016).

AmphibiaWeb's policy on data use.