Pseudacris cadaverina
California Treefrog, California Chorus Frog
family: Hylidae
subfamily: Hylinae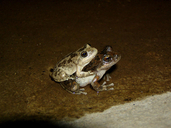 &copy 2012 William Flaxington (1 of 50)

Description
Adults attain a snout-vent length of 36mm in males and 45mm in females. This species has short slender arms, slender unwebbed fingers, small digital discs, and toes that are long, slender and 3/4 webbed. Dorsal surface is tuberculate, ventral surface is smooth to granular. Dorsal coloration is gray to brown with dark brown to green spots. Ventral coloration is dull grey to white on the throat and belly, and pale yellow on the groin, thigh, ventral surface of shank, and inner surface of the tarsus. There is a white line on the upper lip.

Distribution and Habitat


Country distribution from AmphibiaWeb's database: Mexico, United States

U.S. state distribution from AmphibiaWeb's database: California

Found in southwestern California and northwestern Baja California, Mexico; in the mountains and canyons from San Luis Obispo, California to Bahia de los Angeles, Baja California. This species occurs from the costal canyons east to the western edge of the Mojave and Colorado deserts. Found in elevations from near sea level to 1700m. Often found in riparian habitats.

Life History, Abundance, Activity, and Special Behaviors
A stream-dwelling population in the San Gabriel mountains was observed to use deep crevices away from the stream to hibernate for the winter.

Comments


See another account at californiaherps.com.

References


Gaudin, A. J. (1963). ''Hyla cadaverina.'' Catalogue of American Amphibians and Reptiles. American Society of Ichthyologists and Herpetologists, 225.1-225.2.
---

Written by April Robinson (holden AT uclink4.berkeley.edu), UC Berkeley
First submitted 2001-02-05 (2004-04-05)
---

Feedback or comments about this page.

Citation: AmphibiaWeb: Information on amphibian biology and conservation. [web application]. 2016. Berkeley, California: AmphibiaWeb. Available: http://amphibiaweb.org/. (Accessed: May 1, 2016).

AmphibiaWeb's policy on data use.