Mantidactylus charlotteae

Subgenus: Chonomantis

family: Mantellidae
subfamily: Mantellinae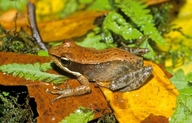 &copy 2008 Miguel Vences and Frank Glaw (1 of 9)


Conservation Status (definitions)
IUCN (Red List) Status
Least Concern (LC)
See IUCN account.
CITES
No CITES Listing

Other International Status
None
National Status
None
Regional Status
None
Can you confirm these amateur observations of Mantidactylus charlotteae?
Description
M 22-26 mm, F 26-32 mm. Tibiotarsal articulation reaches at most the nostril. Fifth toe shorter than third toe. Femoral glands in males often small and not very prominent. Frenal stripe mostly rather distinct and well defined but usually fading before reaching the nostril. Ventrally often with a dark throat with a thin light median line (Glaw and Vences 2007).

Variation: As currently understood this species contains various cryptic species, among them a form from the Ranomafana area (Glaw and Vences 2007).

Distribution and Habitat


Country distribution from AmphibiaWeb's database: Madagascar

Ambatobe, Ambolokopatrika corridor, Ampokafo, Anjanaharibe, Besariaka, Fizoana, Foulpointe, Maroantsetra, Marojejy, Navana, Nosy Boraha, Nosy Mangabe, Rantabe, Sahafary, Voloina (Glaw and Vences 2007). It occurs from sea level up to 600 m asl, in pristine or slightly disturbed rainforest (Glaw and Vences 2008).

Life History, Abundance, Activity, and Special Behaviors
Habits: A locally very common species in low-altitude rainforests along the east coast. Males call during the day from dense vegetation along streams (Glaw and Vences 2007).

Calls: From Foulpointe. Slow series of 16-21 relatively long pulsed notes (Glaw and Vences 2007).

Trends and Threats
Abundant but decreasing. This species is found within several protected areas. Can tolerate slightly disturbed forest. The main threat is habitat loss due to subsistence agriculture, logging, charcoal manufacture, invasion and spread of eucalyptus, grazing and expanding human settlement (Glaw and Vences 2008).

Possible reasons for amphibian decline
General habitat alteration and loss
Habitat modification from deforestation, or logging related activities
Intensified agriculture or grazing

Comments

Taken with permission from Glaw and Vences (2007) and Glaw and Vences (2008).
References


Glaw, F., and Vences, M. (2007). Field Guide to the Amphibians and Reptiles of Madagascar. Third Edition. Vences and Glaw Verlag, Köln.

Glaw, F., and Vences, M. (2008). Mantidactylus charlotteae. In: IUCN 2008. 2008 IUCN Red List of Threatened Species. www.iucnredlist.org. Downloaded on 08 April 2009.
---

Written by Miguel Vences and Frank Glaw (m.vences AT tu-bs.de), Assistant Professor and Curator of Vertebrates at the Institute for Biodiversity and Ecosystem Dynamics in the Zoological Museum at the University of Amsterdam
First submitted 2009-03-31
Edited by Kellie Whittaker (2009-04-08)
---

Feedback or comments about this page.

Citation: AmphibiaWeb: Information on amphibian biology and conservation. [web application]. 2015. Berkeley, California: AmphibiaWeb. Available: http://amphibiaweb.org/. (Accessed: May 23, 2015).

AmphibiaWeb's policy on data use.