Mantidactylus betsileanus

Subgenus: Brygoomantis

family: Mantellidae
subfamily: Mantellinae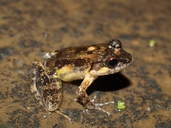 &copy 2011 Devin Edmonds (1 of 22)
| | |
| --- | --- |
| | hear call (114.5K MP3 file) |
Description
M 23-28 mm, F 28-35 mm. A widespread species in the mid-altitude rainforests of eastern Madagascar. Tibiotarsal articulation can reach the tip of the snout. Hand without webbing, foot webbing 1(1), 2i(1), 2e(0.5-1), 3i(2), 3e(1-1.5), 4i/e(2), 5(0-1). Terminal discs of fingers and toes slightly enlarged. Dorsal skin moderately granular, usually with well-visible dorsolateral folds. Colouration dorsally very variable, often light brown with darker patches, with or without vertebral stripes, sometimes with orange flanks. Typical for this and related species is a distinct white tip on the snout. Males with a weakly distensible single subgular vocal sac, distinct femoral glands, these are relatively small and widely separated from each other.

Distribution and Habitat


Country distribution from AmphibiaWeb's database: Madagascar

Andasibe, Besariaka near Moramanga, Fierenana, Mandraka, Ranomafana (Ranomafana village, Ranomafanakely, Vohiparara). It occurs between sea level and 1,500m asl in both intact and degraded rainforest and occasionally in deforested agricultural areas (Vences and Nussbaum 2008).

Life History, Abundance, Activity, and Special Behaviors
Habits: Along slow-moving streams in rainforest and in secondary and disturbed vegetation at mid-elevations, also occurring in swampy areas, ditches and at the edges of ricefields. Not observed in fully deforested areas. Males call during day and (mostly) night from positions on the ground, often from within small open cavities.

Calls: A long and fastly pulsed note.

Breeding takes place in streams, pools, puddles, and rice fields (Vences and Nussbaum 2008)

Trends and Threats
It occurs in many protected areas (Vences and Nussbaum 2008).

Possible reasons for amphibian decline
General habitat alteration and loss
Habitat modification from deforestation, or logging related activities
Habitat fragmentation

Comments
Taken with permission from Glaw and Vences (2007)
References

Glaw, F., and Vences, M. (2007). Field Guide to the Amphibians and Reptiles of Madagascar. Third Edition. Vences and Glaw Verlag, Köln.
Vences, M. and Nussbaum, R. (2008). Mantidactylus betsileanus. In: IUCN 2008. 2008 IUCN Red List of Threatened Species. www.iucnredlist.org. Downloaded on 29 April 2009.
---

Written by Miguel Vences and Frank Glaw (m.vences AT tu-bs.de), Assistant Professor and Curator of Vertebrates at the Institute for Biodiversity and Ecosystem Dynamics in the Zoological Museum at the University of Amsterdam.
First submitted 2000-11-27
Edited by Henry Zhu (2009-05-06)
---

Feedback or comments about this page.

Citation: AmphibiaWeb: Information on amphibian biology and conservation. [web application]. 2016. Berkeley, California: AmphibiaWeb. Available: http://amphibiaweb.org/. (Accessed: Oct 1, 2016).

AmphibiaWeb's policy on data use.