Mantella ebenaui

family: Mantellidae
subfamily: Mantellinae

Species Description: Glaw F, Vences M 2006 Phylogeny and genus-level classification of mantellid frogs (Amphibia, Anura). Organisms, Diversity and Evolution 6:236-253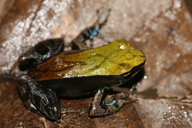 &copy 2007 Franco Andreone (1 of 12)
| | |
| --- | --- |
| | hear call (181.8K MP3 file) |
Description
Very similar to M. betsileo; a morphological or chromatic distinction from this species is currently not possible (Glaw and Vences 2007).

Distribution and Habitat


Country distribution from AmphibiaWeb's database: Madagascar

Northeastern Madagascar and the Sambirano region of northwestern Madagascar. Ambavala, Ankarafantsika (Ankarokaroka, Lac Tsimaloto; assignment to M. ebenaui tentative), Ankify, Anove, Antanambaobe, Antsirasira, Benavony, Berara forest, Betsimpoaka, Farakaraina forest station, Lokobe, Manongarivo, Maroantsetra, Nosy Be, Nosy Boraha, Nosy Faly, Nosy Komba, Rantabe, Sahafary, Tsaratanana (Andampy campsite), Voloina (Glaw and Vences 2007). It occurs from sea level to 900 m asl in rainforest, dry forest, degraded forest, and open areas (Andreone and Vences 2008).

Life History, Abundance, Activity, and Special Behaviors
Habits: Found in rainforest and secondary tree plantations. Calling, fighting and foraging was mainly observed during the day, especially in the morning and after heavy rainfalls. Feeds on small flies, ants, beetles and other small insects (Glaw and Vences 2007). Eggs are laid on land near water (Andreone and Vences 2008). Tadpoles develop in pools or slow-moving water bodies (Glaw and Vences 2007).

Calls: Series of short double-click notes (Glaw and Vences 2007).

Trends and Threats
It occurs in many protected areas and the population appears to be stable (Andreone and Vences 2008).

Comments


Taken with permission from Glaw and Vences (2007).

References


Andreone, F. and Vences, M. (2008). Mantella ebenaui. In: IUCN 2008. 2008 IUCN Red List of Threatened Species. www.iucnredlist.org. Downloaded on 21 April 2009.

Glaw, F., and Vences, M. (2007). Field Guide to the Amphibians and Reptiles of Madagascar. Third Edition. Vences and Glaw Verlag, Köln.
---

Written by Miguel Vences and Frank Glaw (m.vences AT tu-bs.de), Assistant Professor and Curator of Vertebrates at the Institute for Biodiversity and Ecosystem Dynamics in the Zoological Museum at the University of Amsterdam.
First submitted 2009-04-21
Edited by Kellie Whittaker (2009-04-28)
---

Feedback or comments about this page.

Citation: AmphibiaWeb: Information on amphibian biology and conservation. [web application]. 2016. Berkeley, California: AmphibiaWeb. Available: http://amphibiaweb.org/. (Accessed: Sep 29, 2016).

AmphibiaWeb's policy on data use.