Gephyromantis decaryi

Subgenus: Gephyromantis

family: Mantellidae
subfamily: Mantellinae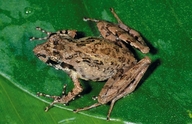 &copy 2008 Miguel Vences and Frank Glaw (1 of 1)
| | |
| --- | --- |
| | hear call (158.0K MP3 file) |
Description
M ca. 23 mm. Dorsally two distinct unconnected and discontinuous pairs of dorsolateral ridges. No continuous white stripe along the upper lip.

Variation: G. decaryi as currently defined is a complex of various new, undescribed species.

Distribution and Habitat


Country distribution from AmphibiaWeb's database: Madagascar

Midongy du Sud, Vevembe, Vohiparara, Vondrozo. It occurs between 700-1050m asl in primary and secondary rainforest and sometimes in disturbed habitats (Glaw and Cadle 2008).

Life History, Abundance, Activity, and Special Behaviors
Habits: Similar to G. boulengeri. Often heard also from secondary vegetation far from any forest, e.g., in the village of Vondrozo.

Calls: A relatively slow series of 40-50 unharmonious notes.

Breeding takes place by direct development (Glaw and Cadle 2008).

Trends and Threats
This species is threatened by the loss and degradation of its forest habitat due to subsistence agriculture, timber extraction, charcoal manufacture, invasive spread of eucalyptus, livestock grazing and expanding human settlements. It occurs in Parc National de Ranomafana, the Réserve Spéciale du Pic Ivohibe, and Parc National de Midongy-du-Sud (Glaw and Cadle 2008).

Possible reasons for amphibian decline
General habitat alteration and loss
Habitat modification from deforestation, or logging related activities
Intensified agriculture or grazing
Urbanization
Habitat fragmentation

Comments
Taken with permission from Glaw and Vences (2007).
References

Glaw, F. and Cadle, J. (2008). Gephyromantis decaryi. In: IUCN 2008. 2008 IUCN Red List of Threatened Species. www.iucnredlist.org. Downloaded on 14 April 2009.
Glaw, F., and Vences, M. (2007). Field Guide to the Amphibians and Reptiles of Madagascar. Third Edition. Vences and Glaw Verlag, Köln.
---

Written by Miguel Vences and Frank Glaw (m.vences AT tu-bs.de), Assistant Professor and Curator of Vertebrates at the Institute for Biodiversity and Ecosystem Dynamics in the Zoological Museum at the University of Amsterdam
First submitted 2000-11-27
Edited by Henry Zhu (2009-05-06)
---

Feedback or comments about this page.

Citation: AmphibiaWeb: Information on amphibian biology and conservation. [web application]. 2016. Berkeley, California: AmphibiaWeb. Available: http://amphibiaweb.org/. (Accessed: Sep 30, 2016).

AmphibiaWeb's policy on data use.