&copy 2010 Nick Scobel (1 of 32)

Country distribution from AmphibiaWeb's database: Canada, United States

U.S. state distribution from AmphibiaWeb's database: Connecticut, Iowa, Illinois, Indiana, Massachusetts, Maine, Michigan, Minnesota, New Hampshire, New Jersey, New York, Ohio, Vermont, Wisconsin

Canadian province distribution from AmphibiaWeb's database: Manitoba, New Brunswick, Newfoundland and Labrador, Nova Scotia, Ontario, Prince Edward Island, Quebec

IUCN (Red List) status: Least Concern (LC).
For Red List information on this species, see the IUCN species account.
Can you confirm these amateur observations of Ambystoma laterale?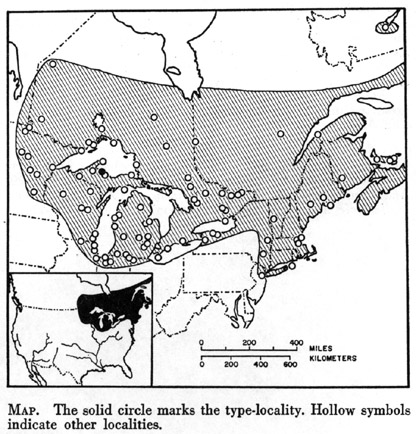 From Uzzell 1967. Catalogue of American Amphibians and Reptiles.
---
From Laura Blackburn, Priya Nanjappa, and Michael J. Lannoo (2001) US Amphibian Dist. Maps (http://home.bsu.edu/home/00mjlannoo/)
---
Citation: AmphibiaWeb: Information on amphibian biology and conservation. [web application]. 2013. Berkeley, California: AmphibiaWeb. Available: http://amphibiaweb.org/. (Accessed: May 18, 2013).
AmphibiaWeb's policy on data use.