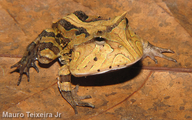 &copy 2010 Mauro Teixeira Jr (1 of 30)


Conservation Status (definitions)
IUCN (Red List) Status
Least Concern (LC)
See IUCN account.
CITES
No CITES Listing

Other International Status
None
National Status
None
Regional Status
None
Can you confirm these amateur observations of Ceratophrys cornuta?
Description
Ceratophrys cornuta is a striking frog due to the presence of its large mouth that is approximately 1.6 times wider than the length of the body. Adult females are larger (up to 120 mm and 130g) than adult males (up to 72 mm and 60g). (Duellman and Lizana, 1994). Color patterns are variable greens, browns, and beige with darker streaks of greens and browns. The ventral side shows a light colored body with uniform dark pigmentation on the throat (Lynch 1982). Like other members of the genus, C. cornuta possesses heavy calcification, ornamentation, casquing, and a hyperossified cranium. The skull is strong and akinetic, with all bones but the premaxilla, columellae, and the septomaxilla fused. A pronounced interocular crest characterizes this species. Other autapomorphies include the absence of a carina from the zygomatic region to the maxilla below the eye, the absence of vomerine teeth, pointed tubercles on flanks, smooth face, extensively webbed outer toes, and a slender, elongated tubercle on eyelids. (See Wild (1997) for detailed osteology).

Distribution and Habitat


Country distribution from AmphibiaWeb's database: Bolivia, Brazil, Colombia, Ecuador, French Guiana, Peru, Suriname, Venezuela

C. cornuta are widely distributed in terra firma and inundated rainforest areas in the Amazon Basin. They prefer the leaf-litter habitat associated with their cryptic coloration and burrowing habits (Duellman and Lizana 1994).

Life History, Abundance, Activity, and Special Behaviors
Duellman and Lizana (1994) estimated an average abundance of 1.9/ha in an Amazonian Peruvian site. Adult activity is mostly nocturnal, while juveniles were found to be active during both day and night. C. cornuta burrows the posterior end of its body with lateral movements of the hind legs and rear part of the body, maintaining its cryptically colored head above the leaf-litter. This species are avid feeders, employing a sit-and-wait ambush tactic on leaf-litter dwelling arthropods (mostly ants and beetles), and large prey (other frogs, small reptiles, and small mammals). Stomach content analysis found that large prey could account to more than half the volumetric content of an adult's diet (Duellman and Lizana 1994).

Limited field observations have been made of C. cornuta breeding behavior. Breeding seems to occur after heavy rainfall, especially at the start of the rainy season (around November). Males call with a loud "baaaaa." The tadpoles have a bluntly rounded snout, eyes in a dorsolateral position, a sinistral ventrolateral spiracle with an ovoid opening facing posteriorly. The mouth parts are highly keratinized, with several rows of teeth and a beak. The larvae have tan colored bodies with a greenish yellow belly and a tan colored translucent tail. Like their adult counterparts, the larvae are voracious carnivores. Their diet consists mainly of other tadpoles (Duellman and Lizana 1994).

Trends and Threats
C. cornuta has the widest distribution within the Ceratophrys genus and is not classified as endangered by the IUCN Red List.

Relation to Humans
Known commercially as horned frogs or pac-man frogs, ceratophryids are popular in the pet trade due to their atypical gapes and voracious appetites. However, C. cornuta is a less common pet than C. ornata and C. cranwelli.

Possible reasons for amphibian decline
General habitat alteration and loss

References


Lynch, J.D. (1982). ''Relationships of the frogs of the genus Ceratophrys (Leptodactylidae) and their bearing on hypotheses of Pleistocene forest refugia in South America and punctuated equilibria.'' Systematic Zoology, 31, 166-179.

Ubeda, C.A. (2001). ''Pleurodema thaul (sapito de cuatro ojos).'' Herpetological-Review, 32(4), 272.

Wild, E. R. (1997). ''Description of the adult skeleton and developmental osteology of the hyperossified horned frog, Ceratophrys cornuta (Anura:Leptodactylidae).'' Journal of Morphology, 232, 169-206.
---

Written by Francine Abe (lissamphibia AT gmail.com), Univ of Kansas Herpetology Class
First submitted 2005-01-13
Edited by Tate Tunstall (2010-04-18)
---

Feedback or comments about this page.

Citation: AmphibiaWeb: Information on amphibian biology and conservation. [web application]. 2015. Berkeley, California: AmphibiaWeb. Available: http://amphibiaweb.org/. (Accessed: May 27, 2015).

AmphibiaWeb's policy on data use.